Long time no see~ Spring is here and romance is in the air. Have you gone out for a Spring trip with your family or friends yet? The update of Royal Chaos is coming with the new gameplay and the exciting double Ride this time. It's desirable to share the Spring with him/her in the Stream Land, isn't it? Coming with Yuexiu and get to know the details~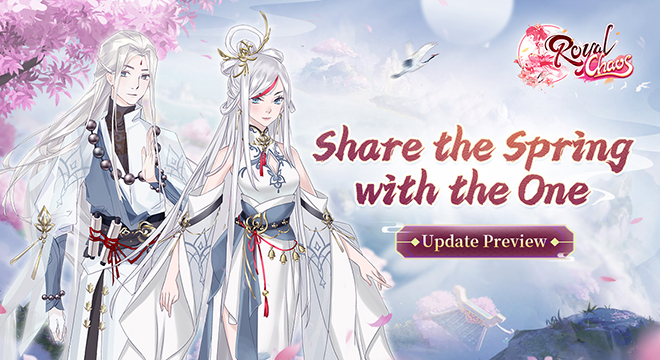 New Gameplay: Enroll
All Roads Lead to Success. In the palace, you can debate with your teacher to increase the Enrollment progress. Your Highness would be listed in the Enrollment Ranking and get rich rewards after the successful Debate. Besides, you can claim the Study Coin and Gold daily to exchange the items in the Study Shop~
New Function: Talents
How much do you know about the four talents (music, chess, books, and paintings) in the palace? Now you can use the Textbook and Scroll achieved from Enroll to enhance your attributes. It's never too late, hurry up to improve your Might and gain a foothold in this palace!
New Ride: Double Ride
Share the Spring with the One. The brand new double Rides are coming to the palace! Imagine you and him/her riding in Stream Land on one of these beautiful and lovely Rides~
Love Fairytale (Double)
Gentle Ripple (Double)
Glowing Firefly (Double)
Character Costumes
Diverted Views
Gorgeous Time
Heir Costumes
Drifting Petals
Let's call it a day. Can't wait any longer? More surprises will be waiting for you to explore in the game~ If you have any idea about this update, please come to our official Facebook and share with us. Stay tuned!
About Royal Chaos
Royal Chaos is a card-based adventure game developed by FriendTimes, brings you an immersive take on the Chinese ancient palace carved by romance. Being thrust into the dramatic but struggling chaos as a noble lady, will you grin and bear the destiny?

OFFICIAL SITE:https://rc.wishgamer.com/
OFFICIAL FACEBOOK:https://www.facebook.com/RoyalChaosWG
ENTERPRISE SITE:https://www.wishgamer.com/
ENTERPRISE COMMUNITY:https://www.facebook.com/FriendTimesInc
LEARN MORE ABOUT FRIEND TIMES:https://en.wikipedia.org/wiki/FriendTimes